The grand wool stores and warehouses of the 1860s and 1870s remained the dominant structures of East Circular Quay for 90 years.
Names like McMahon, Flood and Co and Badgery signalled a time when the wool industry dominated the economy.
Following the shearing season, Sydney's roads, railways and wharves were alive with activity. Wharfies, wool brokers and merchants rubbed shoulders with sea captains as ships were loaded with bales before setting sail for England.
Local wool specialists cleaned and identified the wool grade, stored it, negotiated prices and connected sellers to buyers before exporting it overseas.
Although wool is flame-resistant, it has been associated with some spectacular wool store fires. The internal timber structures in the stores soak up the wool's grease and ignite easily – spontaneous combustion was a regular event.
First discovered in the early hours of the morning by the Customs House watchman, the fire at the Blackwall Wool Stores in 1870 lit up Circular Quay and spread rapidly along the waterfront. The Australian Town and Country Journal recounted the scene: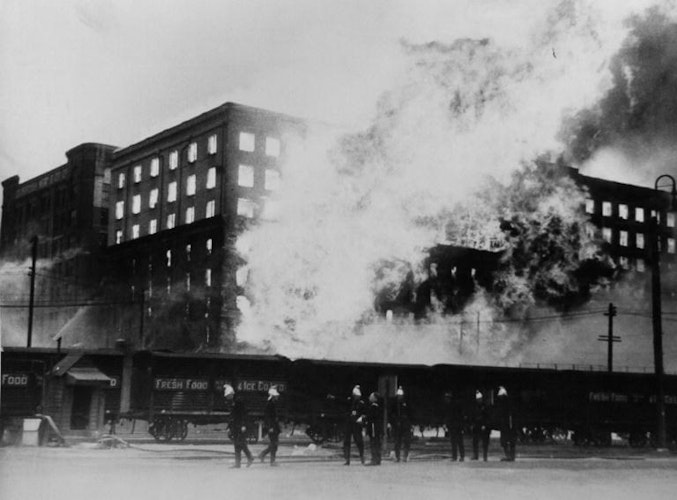 'Flames leaped upwards in huge volumes with terrific grandeur, lighting up the whole of the quay and rendering the buildings and ships opposite as clearly visible in their minutest details as they are at noonday.'1
The fire burned for hours. Around 2000 bales of wool, 321 bales of flax and 3 warehouses were destroyed.
Dramatic wool store fires were common around the working harbour and Cockle Bay well into the 20th century.
---
1 1870 'Destructive Fire at Circular Quay. Blackwall Stores Burnt.' Australian Town and Country Journal 12 February 1870, p. 25. http://nla.gov.au/nla.news-article70457651